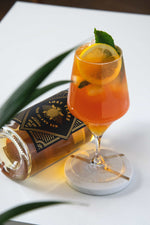 BOOZY ICED TEA

Medium
An English tea with a Caribbean twist, what better serve could you ask for to celebrate the Queen's Platinum Jubilee? 
To make your own Lost Years Boozy Iced Tea you'll need a bottle of our glorious multi award-winning Four Island rum.
It's then a simple two-step process - first make up an iced tea concentrate, chill it in the fridge, then add the rest of the ingredients to create the final drinks.

INGREDIENTS:
For the iced tea concentrate:
2 teabags (normal tea, nothing fancy!)
2 lemon slices
1 tbsp brown sugar
400ml Hot Water
Stir and chill in the fridge
HOW:
Fill a hurricane glass with ice, add 200ml of the iced tea concentrate and top up with lemonade.
GARNISH:
Garnish with mint and a lemon slice

Check out our Instagram Reel for the 30 second tutorial.