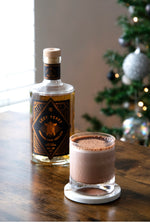 LOST YEARS ARRIBADA HOT CHOCOLATE

Easy
This is a gorgeously simple hot serve made using our lush Arribada Cask Aged Rum and hot chocolate.
What you'll need:
35ml Lost Years Arribada Cask Aged Rum
40ml Chocolate Syrup (1:2 choc to hot water ratio)
Milk or Alt Milk
Chocolate or cocoa powder
How to do it:
Make up your chocolate syrup and then simply add the ingredients into a heat proof glass - rum first, warm chocolate syrup and finally hot milk. Finish with a sprinkle of chocolate powder.