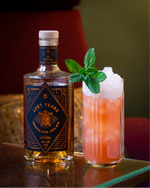 Lost Years Jungle Bird

5 mins

Easy
The Jungle Bird is a fun tropical cocktail originally created in Malaysia in the early 1970s and given a Latino twist here through the inclusion of our Arribada rum. 
Done well, the bitterness of the Campari and the dry warmth of our cask aged rum is offset by the fruit juices and the syrup to create a beautifully balanced treat. 
INGREDIENTS:
45ml pineapple juice
20ml Campari
15ml lime juice
15ml simple syrup
HOW:
Shake all the ingredients with ice, then double-strain over either crushed ice or a large cube (whatever you prefer) in a glass according to your serving of choice.
GARNISH:
Mint sprig.