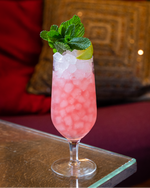 Lost Years Doctor Funk

5 mins

Easy
This colourful serve harks back to the early 1950s and was created by Don Beach at his Palm Springs restaurant, Don the Beachcomber.  It was apparently named after Dr Bernard Funk, Robert Louis Stevenson's physician, who was known to prescribe an absinthe-laced limeade for the treatment of various ailments. 
INGREDIENTS:
20ml Lime Juice
15ml Pomegranate Syrup/Grenadine
1 small barspoon Absinthe (try the new London Absinthe from our friends at Devil's Botany)
HOW: 
Shake all the ingredients with crushed ice, then simply pour into a large glass (pilsner/highball/tiki).
GARNISH: 
Mint sprig and lime wedge.