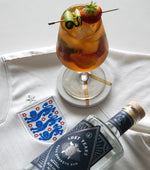 CELEBRATING ENGLAND'S EUROS WIN WITH THE LIONESS COCKTAIL

Easy
Experience the taste of victory with the Lioness, a liquid tribute to the amazing England team who won the Euros 2022. 
Classically English with a Lost Years twist, it's the taste of summer in a glass.
What you'll need:
1 lime wheel

3 cucumber wheels

2 strawberries in the bottom of the glass.

40ml Lost Years Navy Rum

40ml Pimms 10ml Lime Juice
How to do it:
Put the lime wheel, cucumber wheels and strawberries in the bottom of a glass.

Add the rum, then the Pimms and lime juice.

Stir.

Fill glass with ice & top with lemonade

Garnish with cucumber peel & strawberry on a cocktail stick.