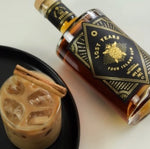 CELEBRATE SEA TURTLE WEEK WITH A LOGGERHEAD MARTINI!
We've created this gorgeous and rather unusual rum martini - the Loggerhead Martini - to celebrate Sea Turtle Week 2022 and specifically Loggerhead Day (12th June 2022). 
Made with our delicious sea turtle-saving Arribada Cask Aged Rum, Guinness and coffee, it's a liquid tribute to its namesake, one of the bigger of the seven sea turtle species. 
Cocktail historians will know it's also a reference to an ancient colonial era drink called the 'Loggerhead Flip' which was made with rum, ale and sugar before being heated with a red hot iron poker known as loggerhead. 
What you'll need: 
Arribada 50ml

 

Guinness/stout 100ml

Coffee 25ml

 

Milk
How to do it: 
Add first three ingredients to a glass, add ice and stir.

Top with milk/or alt milk and stir again.

Garnish with a cinnamon stick.