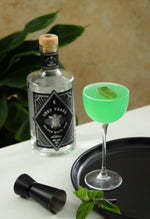 CELEBRATE SEA TURTLE WEEK WITH A GREEN TURTLE!

Easy
One of two brand new serves we've created for Sea Turtle Week 2022, the Green Turtle is a tribute to the second largest of the seven sea turtle species! 
Adult green sea turtles are herbivores, dining on sea grasses, seaweeds, algae and other forms of marine plant life - not that we've used any of these in this cocktail!  Instead, its stunning colour comes from the addition of minty creme de menthe.
What you'll need: 
Lost Years Silver Moon Rum 50ml

Creme De Menthe 20ml

Lime Juice 15ml

Coconut Water 30ml

Simple syrup 15ml
How to do it: 
Add all ingredients to a shaker and shake with ice.

Double strain into a coupe glass and garnish with a mint leaf.