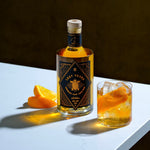 LOST YEARS ARRIBADA BANANA OLD FASHIONED

Medium
With its warm, mellow and oaky flavour profile,
Lost Years Arribada
is always a great choice for a rum old fashioned and you'll already find a number of recipes for this classic here in our cocktail archive.   
This new one is something special though - a banana rum old fashioned!  A bold drink which balances the bitterness of orange with tropical banana, naturally sweet cask aged rum and sugar to taste, it's heaven in a glass.   
What you'll need: 
60ml Lost Years Arribada
5-10ml Banana & cacao syrup (see below) 
2 dashes angostura bitters
2 dashes orange bitters
For the syrup: 
1 banana, sliced (frozen works well)
Heaped teaspoon cacao nibs
200g Granulated sugar
150ml Water
How to do it: 
First, make up the syrup - heat ingredients until dissolved, simmer gently for 10 minutes, leave to cool. 
Fill a mixing glass with ice and add all the ingredients.  Stir for five seconds and strain into an old fashioned or rocks glass, over a single large ice cube or sphere.
Twist orange peel over the drink to express the citrus oils and stuck into the glass. 
Sit back and enjoy.