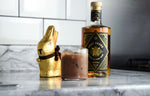 AN EASTER TREAT FROM LOST YEARS RUM - GROWN-UP CHOCOLATE MILK!

Easy
Here's an Easter treat for the grown-ups - a delicious chocolate milk with a Lost Years twist! 
We've combined gorgeously sweet chocolate milk with our signature aged rum, Four Island.  The result is decadent and lush - a delightful adult milkshake.
Make up a batch and enjoy it over Easter - it should last a couple of weeks in the fridge, though it probably won't hang around that long!  
What you'll need: 
200ml milk (or alternate) 

50g cocoa 

100g brown sugar 
How to do it: 
Add the milk (or alternate), cocoa and brown sugar to a saucepan. 

Stir over a medium heat for 5 minutes until everything has dissolved.

Take off the heat and leave to cool.

Once cool, add the Lost Years Four Island Rum and mix thoroughly.

Bottle the mixture up and store in the fridge.

Pour over ice when ready to enjoy!